"If you want a superb music experience for your wedding or event then hire Joe!" -Wedding Wire Review
Joe's diverse song list has a wide variety of styles – ranging from the classics to current Top 40 hits. He also takes special requests - if you don't see a song on the list then let him know and he will be happy to learn it just for YOU!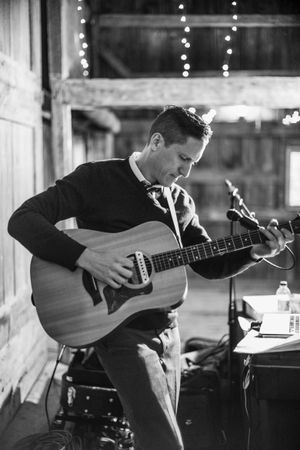 Live Cocktail/Dinner Hour Playlist
A Change Is Gonna Come - Sam Cooke
Across The Universe - Beatles
Ain't No Sunshine - Bill Withers
All I Want Is You – U2
All Of Me - John Legend
All You Need Is Love – The Beatles
All You Need To Know - Gryffin & Slander
Always Be My Baby - Mariah Carey
Always On My Mind – Willie Nelson
Amy – Pure Prairie League
American Dream – Joe Farren
Angel From Montgomery – John Prine
Atlantic City – Bruce Springsteen
Away Forever – Joe Farren
Baby, I Love Your Way - Peter Frampton
Badfish - Sublime
Bartender – Dave Mathews Band
Beautiful Crazy - Luke Combs
Believer - Imagine Dragons
Better Together - Jack Johnson
Billie Jean – Michael Jackson
Blackbird – The Beatles
Blinding Lights - The Weekend
Blue Christmas – Elvis Presley
Blurred Lines - Robin Thicke
Boogie On Reggae Woman – Stevie Wonder
Breakeven - The Script
Bridge Over Troubled Water – Paul Simon
Bright Side Of The Road – Van Morrison
Brilliant Disguise – Bruce Springsteen
Bring It On Home To Me – Sam Cooke
Brown Eyed Girl – Van Morrison
Butterfly Kisses - Bob Carlisle
Call Me The Breeze – J.J Cale
Can't Help Falling In Love - Elvis Presley
Can't Take My Eyes Off You - Frankie Valli/Lauren Hill
Can't You See - The Marshall Tucker Band
Chasing Cars - Snow Patrol
Cinderella – Steven Curtis Chapman
Crazy Little Thing Called Love – Queen
Crazy Love – Van Morrison
Cry Me A River – Traditional
Cocaine Blues – Johnny Cash
Come By Me – Harry Connick Jr.
Come Monday – Jimmy Buffet
Count On Me - Bruno Mars
Country Road – James Taylor
Crossroads - Eric Clapton
Dancing Queen - ABBA
Danny's Song – Kenny Loggins
Daughters - John Mayer
Dead Flowers – Rolling Stones
Desperado – Eagles
Die A Happy Man - Thomas Rhett
Dock Of The Bay – Otis Redding
Don't Stop Believing - Journey
Don't Think Twice, It's Alright – Bob Dylan
Don't You Wanna Stay – Jason Aldean
Easy – Lionel Richie
Every Little Thing She Does Is Magic – The Police
Everything - Michael Buble
Faithfully – Journey
Family Tradition – Hank Williams Jr.
Fast As You – Dwight Yoakam
Feelin Alright – Traffic
Fire and Rain – James Taylor
Flake – Jack Johnson
Fly Me To The Moon – Frank Sinatra
Folsom Prison Blues – Johnny Cash
For A Little While – Phil Vassar
Forever – Joe Farren
Forever After All - Luke Combs
Forget You – Cee Lo Green
Friend Of The Devil – Grateful Dead
Get Her Back - Robin Thicke
Get Lucky - Daft Punk
Get Ready – Joe Farren
Georgia On My Mind – Ray Charles
Glad You Exist - Dan + Shay
Go On – Joe Farren
Going Down The Road Feeling Bad – Grateful Dead
Gravity - John Mayer
Hallelujah – Jeff Buckley
Hallelujah I Love Her So – Ray Charles
Happy - Pharrell Williams
Harvest Moon – Neil Young
Heart Of Gold – Neal Young
Helpless – Neal Young
Here Comes The Sun - The Beatles
Hey Joe – Jimi Hendrix
Hey Pretty Girl – Kip Moore
Hey Soul Sister – Train
Hey Ya – Outkast
Higher Love - Whitney Huston
Ho Hey - The Lumineers
Home – Michael Buble
Honey Bee – Blake Shelton
Honky Tonk Woman – Rolling Stones
Hound Dog – Elvis Presley
I Choose You - Andy Grammer
I Choose You - Sara Bareilles
I Hear You Knocking - Dave Edmunds
I Hope You Dance - Lee Ann Womack
I Love You Will Still Sound The Same - Oh Honey
I Loved Her First - Heartland
I Shall Be Released – Bob Dylan
I Want Crazy - Hunter Hayes
I Won't Give Up - Jason Mraz
I Will Follow You Into The Dark - Death Cab for Cutie
Ice Cream Man – Tom Waits
If I Should Fall Behind – Bruce Springsteen
I'll Be Your Man - Zac Brown Band
I'll Have To Say I Love You In A Song - Jim Croce
I'm Gonna Find Another You - John Mayer
I'm Yours – Jason Mraz
I'm Yours - The Script
Imagine – John Lennon
I'm Coming Home – Joe Farren
I'm On Fire – Bruce Springsteen
In Case You Didn't Know - Brett Young
In My Life - The Beatles
In My Own Mind – Lyle Lovitt
In My Time Of Need – Ryan Adams
In The Midnight Hour - Wilson Pickett
Into The Mystic – Van Morrison
Iris - Goo Goo Dolls
It Ain't Over 'til It's Over – Lenny Kravits
It Don't Matter To The Sun – Garth Brooks
Jealous Again - Black Crowes
The Joker – Steve Miller Band
Joy Of My Life - Chris Stapleton
Just The Two Of Us - Bill Withers
Just The Way You Look Tonight – Frank Sinatra
Keep Me In Mind – Zac Brown Band
Kiss – Prince
Kiss Me - Ed Sheeran
Knee Deep – Zac Brown Band
Knock On Wood - Eddie Floyd
Landslide – Fleetwood Mac
Last Chance – Joe Farren
Last Dance With Mary Jane – Tom Petty
Lay Down Sally – Eric Clapton
Let It Be – The Beatles
Life By The Drop - Stevie Ray Vaughn
Lie To Me – Joe Farren
Linus and Lucy – Vince Guaraldi
Little Moments Like That – Brad Paisley
Little Sister – Elvis Presley
Love A Little Stronger – Diamond Rio
Love And Sunsets - Zac Brown Band
Love Will Keep Us Alive - The Eagles
Love Yourself - Justin Bieber
Lucky - Jason Mraz
Man Of Constant Sorrow – Traditional
Margaritaville – Jimi Buffet
Marry Me – Train
Marry You - Bruno Mars
Me And Julio Down By The School Yard – Paul Simon
Midnight Rider - Allman Brothers
Mirrors - Justin Timberlake
Missing Piece - Vance Joy
Moondance – Van Morrison
Moonlight Sonata – Beethoven
Mother Like Mine - The Band Perry
Musetta's Waltz – Puccini
My Girl – The Temptations
My Father's House – Bruce Springsteen
My Little Girl - Tim McGraw
My Old Man - Zac Brown Band
New York State Of Mind – Billy Joel
93 Million Miles - Jason Mraz
Not Fade Away – Buddy Holly
Not With Haste - Mumford & Sons
Nothing Can Change This Love - Sam Cooke
#41 – Dave Mathews Band
One – U2
One After 909 – The Beatles
One Call Away - Charlie Puth
One Way Out – Allman Brothers Band
100 Years – Five For Fighting
Ophelia – The Band
Oh My Sweet Carolina – Ryan Adams
One Love – Bob Marley
Patchabel Canon – George Winston
Perfect - Ed Sheeran
Photograph - Ed Sheeran
Piano Man – Billy Joel
Please Come Home For Christmas – Aaron Neville
Pride & Joy – Stevie Ray Vaughn
Purple Rain – Prince
Rain King – Counting Crows
Rather Be - Clean Bandit
Red Jacket – Joe Farren
Ring Of Fire – Johny Cash
Riptide - Vance Joy
Ripple – The Greatful Dead
Rocket Man – Elton John
Rodeo Clowns – Jack Johnson
Run Run Rudolph – Chuck Berry
Savannah – Joe Farren
Say You Won't Let Go - James Arthur
Shape Of You - Ed Sheeran
She's Got A Way – Billy Joel
Simple Man – Lynyrd Skynyrd
Simply The Best - Tina Turner
Sky Full Of Stars - Coldplay
Somebody Have Mercy – Sam Cooke
Somebody Like You – Keith Urban
Something – The Beatles
Somewhere Over The Rainbow – Traditional
Somewhere Over The Rainbow/Wonderful World - Israel Kamakawiwo'ole
Soulshine - The Allman Brothers Band
Speed Of The Sound Of Loneliness – John Prine
Stand By Me - Ben E. King
Steamroller Blues – James Taylor
Still On My Mind – Joe Farren
Stir It Up - Bob Marley
Stolen Car – Bruce Springsteen
Suds In The Bucket – Sara Evans
Suit & Tie - Justin Timberlake
Sunday Morning - Maroon 5
Superstition – Stevie Wonder
Sweet Child Of Mine - Guns N Roses
Sweet Caroline – Neil Diamond
Sweet Home Alabama – Lynyrd Skynyrd
Sweet Thing – Van Morrison
21 Days – Joe Farren
Take Me To The River – Al Green/Talking Heads
Tenerife Sea - Ed Sheeran
Tennessee Whiskey - Chris Stapleton
Thank God - Kane Brown
That's Alright Mama – Elvis Presley
That's How Strong My Love Is – Otis Redding
The Drugs Don't Work – Ben Harper
The Tail Is Wagging This Dog Again – Joe Farren
The Long Way Home – Norah Jones
The One That Got Away – Jake Owen
The Prayer – Josh Grobin
These Days – Jackson Browne
Thinking Out Loud - Ed Sheeran
This Years Love – David Gray
Til The Day – Joe Farren
Tiny Dancer – Elton John
To Be Young – Ryan Adams
To Love Somebody - Bee Gees
To Make You Feel My Love - Adele
Toes – Zac Brown Band
Treasure - Bruno Mars
Treetop Flyer - Stephen Stills
Tupelo Honey – Van Morrison
Use Somebody – Kings Of Leon
Valerie - Amy Winehouse
Wagon Wheel – Old Crow Medicine Show
Walk With You – Edwin McCain
Walking In Memphis - Marc Cohn
Wave On Wave – Pat Green
Wedding Song - Peter, Paul and Marry
The Weight – The Band
What A Beautiful Day – Chris Cagle
Whatever It Is – Zac Brown Band
What I Say – Ray Charles
When I Was Your Man - Bruno Mars
When That Evening Sun Goes Down – Van Morrison
When The Right One Comes Along - Sam Paliadio
When The Stars Go Blue – Ryan Adams
Whole Lotta Shakin Goin On – Jerry Lee Lewis
Wild Night – Van Morrison
Will It Go Round In Circles – Billy Preston
With Or Without You - U2
Wonderwall – Oasis
Yellow – Coldplay
You And Me - Dave Mathews Band
You And Me - Lifehouse
You And Tequilia – Kenny Chesney
You Are My Sunshine - Traditional
You Aint Goin Nowhere – Bob Dylan
You Can Close Your Eyes – James Taylor
You Don't Know Me – Ray Charles
You Make It Easy - Jason Aldean
You Make Loving You Easy - Zac Brown Band
You Shook Me – Led Zepplin
You Shook Me All Night Long – ACDC
You Wreck Me - Tom Petty
Your Song – Elton John
Yours - Russell Dickerson
93 Million Miles - Jason Mraz